Finished
WD3
1
7
TTR
MMP
Nov. 1 8:00 pm
Finished
D4
1
5
BDB
HIV
Nov. 2 6:00 pm
Finished
WD2
7
2
GLZ
TBD
Nov. 2 7:00 pm
Finished
D3
3
2
RAY
DoH
Nov. 2 7:15 pm
Finished (OT)
D5+
2
1
CUL
BDB
Nov. 3 7:00 pm
NEW UPDATED PLAYER RANKINGS FOR THE 2020 SPRING SEASON AND NEW DIVISION!!
📣📣📣📣📣📣📣📣📣📣📣📣📣📣📣📣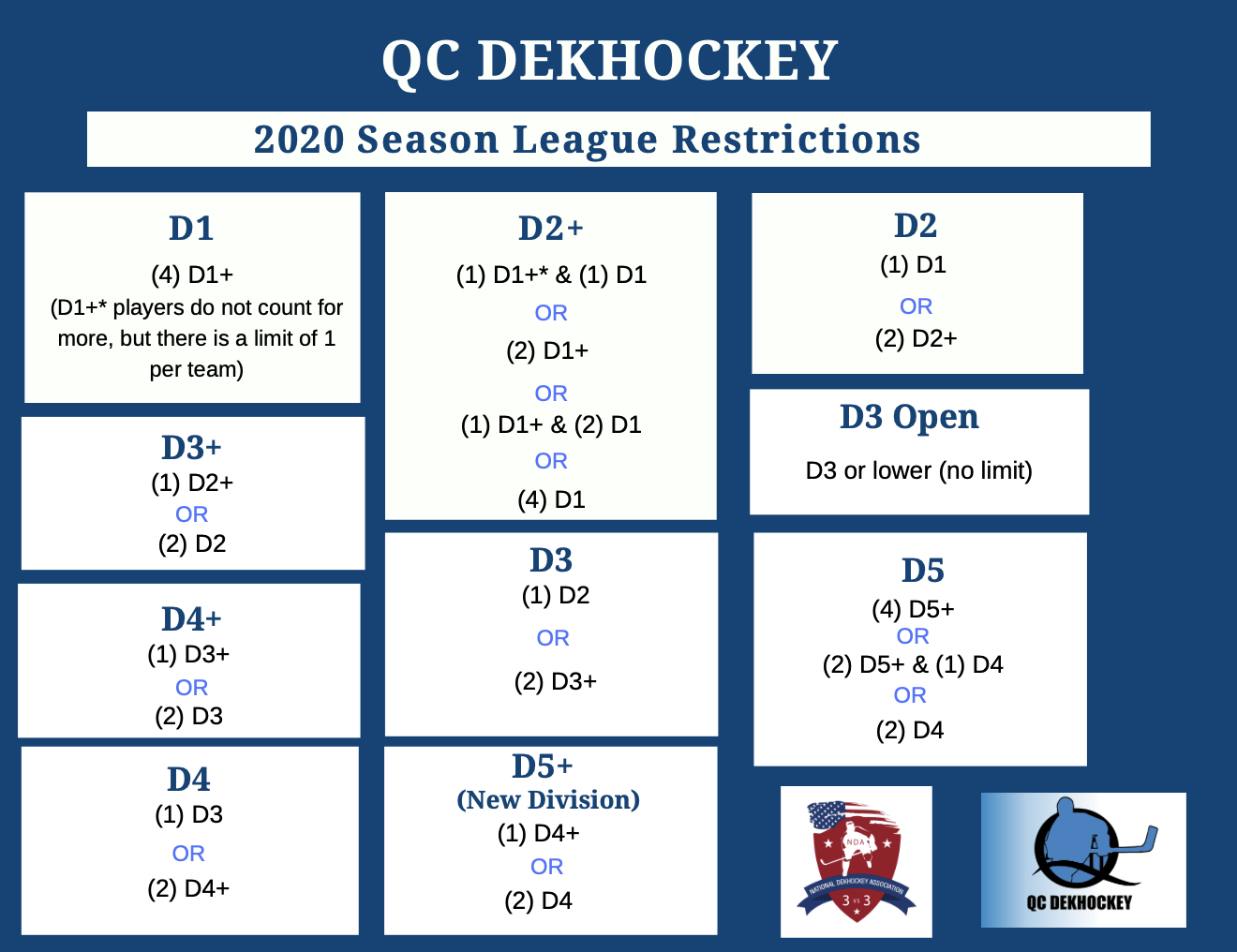 Player rankings have been updated for the upcoming 2020 spring season and a new division has been added!
🚨To see a player's updated rank, follow these steps:
-go to qcdekhockey.com.
-click on players, then player list.
-you will then be on the "search a player" tool.
-search any player and beside his/her name will be his "forward" and "goaltender" rank.
🚨If you are concerned about a player's ranking and would like a ranking review, you may email [email protected] for player to be "reevaluated". The player in question will be looked into and re ranked if necessary.
🚨Please email us if one of the following:
-If you have multiple player profiles (please note: it is normal to have (1) "sub" profile and (1) "regular" profile).
-If your "sub" player profile and "regular" player profile both have different rankings.
-If you did not play last season and do not have an updated ranking.
-If you have any concerns about your ranking.
🚨VERY IMPORTANT! Please take time to look into the divisions for the upcoming season and what the player ranking restrictions are for each level.
🚨IT IS THE TEAM'S RESPONSIBILITY TO MAKE SURE THEIR ROSTER IS LEGAL WHEN SIGNING UP AND PRIOR TO EVERY GAME.
🚨MUST be 14 years old minimum to play in the adults league.
🚨A maximum of (3) JR players (14 - 15 year old) (goalies don't count) can be rostered on a D3+, D3, D4+, D4, D5+ and D5 team. (D3 OPEN, D1, D2+, D2 an unlimited number of Jr players are allowed)
🚨 A maximum of (5) women can be rostered in any division other than the women's divisions and the D3 open league. (D3 OPEN an unlimited number of women players can be rostered)
🚨You can only roster 10 players MAX on a season roster.
🚨No warnings will be given to a team who doesnt respect the rules. It will result in an automatic forfeit.
🚨Teams have 24 hours following a game to contest a game due to an illegal roster. Once the 24 hours has past, the game is considered FINAL.
🚨IF A PLAYER IS NOT RANKED IN A NDA LOCATION (Waterloo, Springfield, Quad City), TEAM CAPTAIN MUST EMAIL QCDEKHOCKEY TO GET A TEMPORARY PLAYER RANKING FOR THE PLAYER(s).
🚨The NDA has the right to change a player's ranking if judged necassary.
x
Term of use Shark Media & Sport
The content of this site is private and purely informative. The rights of a visitor to this site cannot, therefore, be derived from the content of this website. This website is operated by and was created by SHARK MEDIA & SPORT. The data contained within this website are the intellectual property of and are copyright-protected. The data herein cannot be copied or reproduced without the prior consent of or SHARK MEDIA & SPORT, other than in contexts requiring on-line searches. However, you may print out entire pages of this site for personal use. For further information about the use of this site, please communicate with SHARK MEDIA & SPORT.