All player rankings have been updated for the 2023 Dekhockey season!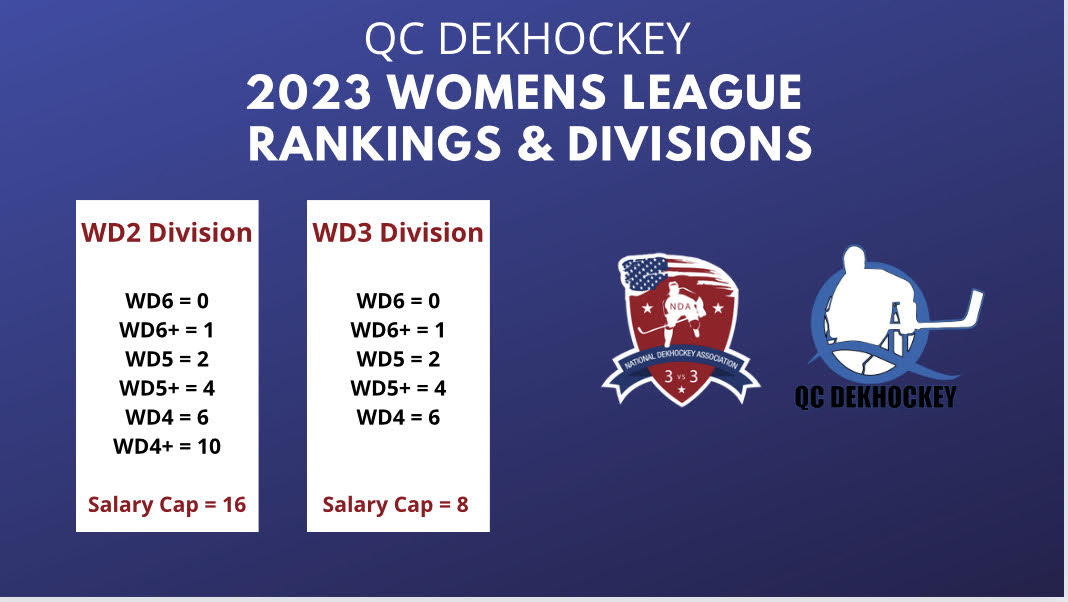 VERY IMPORTANT! Please look into the divisions for the upcoming season and what the new player ranking restrictions are for each level.
To see a player's updated rank:
-click on "players."
-search any player and beside her name will be their "forward" and "goalie" ranking.
NEW PLAYERS: If a player is not ranked in an NDA location, the team captain MUST email qcdekhockey@gmail.com to get a ranking for the player(s) in question. There will be no NR (unranked) players.
Please email us if one of the following:
-If you have a new player that isn't ranked.
-If you have multiple player profiles (please note: it is normal to have (1) "sub" profile and (1) "regular" profile).
-If your "sub" player profile and "regular" player profile both have different rankings.
-If your QC Dekhockey ranking is different than your NDA ranking
-If you did not play last season and do not have an updated ranking.
-If you have any concerns about your ranking.
It's the team's responsibility to make sure their roster is legal when signing up and prior to every game. Team captains always have
24
hours
following a
game
 to ask for any corrections on a
game
 roster, on 
game
 points or to bring up an illegal roster. 
After
 the 
24
hours
 the roster and 
game
are 
final
.
All players MUST be 14 years old minimum to play in the adult's league. A player who is turning 14 during the regular season will be allowed to play.
A maximum of (10) players can be rostered on a team.
The NDA has the right to change a player's ranking if judged necessary!